Furla Diamante Satchel Tote- Spring/Summer 2013
As with other Furla bags the Furla Diamante Satchel is a great work of art, captured in a fine handbag. It is constructed with the most precious leathers often combined with other natural or technical materials. Furla purses are expertly crafted by hand and posses a fresh, seductive sense of color. Shapes are used with detail, style and functionality in mind. Every single Furla product tells a brief, wonderful story of Italian creativity.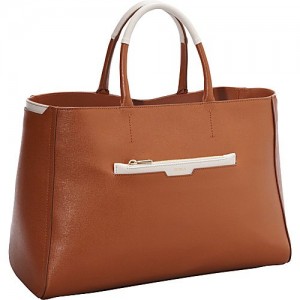 Each handbag design, as demonstrated by the Furla Diamante Satchel, meets the desires of women throughout the world whose elegance is an individual expression of their own lifestyle. A sophisticated, knowledgeable consumer that shuns provocation and short-lived trends. Furla bags and accessories are done in feminine, timeless styles, yet highly modern. This is due to constant design and technology research.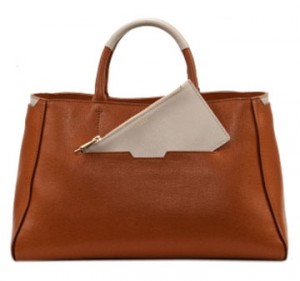 The Furla Diamante Satchel is a very sophisticated satchel. Classic design with a wonder full two-tone twist. The base color of the Furla Diamante Satchel is offset with marble-beige accents on the handles and at the top of the satchel. This modern-classic satchel tote has a great, removable change purse that is also colored marble-beige. The change purse is designed to fit in an external pocket on the main bag and adds a design element to the look of the bag. Made from fine calf's leather, the Furla Diamante Satchel has a great look and feel of soft leather. The satchel has jacquard fabric lining. Jacquard is a type of fabric in which the design is incorporated into the weave instead of being printed or dyed on. These kind of special touches, add great accents to the purse.

Furla Diamante Satchel features:
materials: calf leather
colour: leather-brown, marble-beige
tone-on-tone stitching
tone-on-tone external ribs
jacquard fabric lining with Furla logo
light gold galvanic gilding
internal metal tag with Furla logo
carried in the hand
internal zip pocket
mobile phone pocket
two external pockets
external removable zip pocket
drop: 11 cm – 4 ¼"
feet

Related Posts :