Gucci Patent Leather Clutch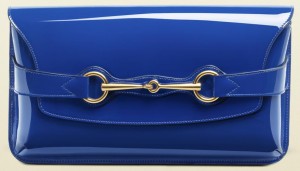 With this Gucci patent leather clutch, nights out never looked so classy. Gucci's iconic horsebit decorates the front of this clutch for simple understated style.  Simple and to-the-point style that never gets old.  Because of the solid color of this Gucci patent leather clutch, the stitching adds a slight highlight to the purse as it outlines the contours of the flap closure.  Though this image does not do it full justice, the hardware on the bag is an antique gold color which adds to this clutches' 'classic' appearance. This clutch is formal. It comes in
blue
and
pink
.
Gucci Patent Leather Clutch features:
Gucci patent leather
antique gold hardware
hand painted edges
Made in Italy
horsebit detail
flap closure
interior smart phone and zip pockets
zip and open pocket
12″W x 7″H x 1.5″D
From the Man's Eye:
This is not a purse you go buying as a gift for just, anyone. The price tag on the Gucci patent leather clutch is a bit steep. This is not a purchase to make if your disposable income is on the low end and that goes for men and woman. That said, I like the simple style of this patent leather clutch. It reminds me of a formal purse that is suited for an evening out or a formal event. I like that it has pockets and compartments made for storing your smartphone or mobile devices; maybe this can help avoid the massive search that sometimes takes place when a phone is heard ringing inside a women's purse.  There are no straps or handles so it must be held in the your hand most of the time. For this reason, this Gucci clutch is not meant for an active outing. I think you need to be careful with your colors with this bag. The color is vivid, striking and modern, which contrasts well with it's classic style. This Gucci patent leather clutch has bold coloring and begs for attention. Don't lessen that effect by pairing it with the wrong attire. I think this bag should be the star of the outfit. Don't wear things that will drown it out.
Related Posts :