Handbag Care – Tips for Caring for and Storing Your Handbags
{EAV:2c53c86b0f2d34d5}
Handbag care is something that is often overlooked. Storing and caring for your handbags is very important if you want it last and look it's best when you need it! Remember, your bag is a reflection of you. It is the single most worn item in your wardrobe. Keep it clean. Take your handbag care seriously. The better you treat it, the better it will treat you!
Handbag care – storage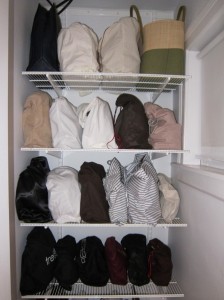 Bags must be able to breath, use cloth storage bags, or pillow cases. Wicker storage baskets with lids are great and they keep my bags from being smashed or behind things on the floor of the closet. It is best if you get wicker baskets that have a cloth lining. If they are not lined with cloth, add cloth to the inside to prevent the wicker from scratching the exterior of your handbag or hardware on other bags that can cause damage. The key is to handbag care, in relation to storage, is storing your handbags in a manner that they can breath and are safe from physical damage.
To help avoid physical damage, wrap any metal rings, FOBS, and chains separately. These little lovelies, especially brass, will leave lasting impressions on your bags. Metals can cause discoloration, scratches and even tears in your handbags. If you notice, manufacturers wrap rings and buckles for storage. It can be as simple as a piece of tissue paper wrapped around the metal or stuck between the metal and the leather. Also wrap tassels to keep them smooth. Sheets from small note pads, wrapped and taped, does the trick. Hang on to packaging from other things and such for these purposes! Be careful if you put more than one bag in a basket, that the neighboring bags also don't leave undesired marks on each other.
Consider stuffing your bag to help maintain the shape. Tissue paper is great for this purpose. Or discarded wrapping paper.
Handbag care – cleaning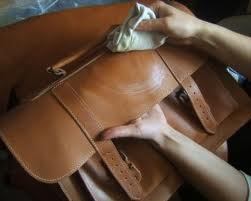 For cleaning smooth leather bags a product at Walmart in the automotive section for leather seats works well. It is made by AmorAll. It actually smells like leather and rubs on like lotion. As stated on the bottle–test an area first to make sure it is compatible with your bag. This product cleans, conditions, and protects it against UV and heat.
For suedes, I use KIWI Suede and Nubuck cleaner. Also available at Walmart in the shoe department, is an aerosol and smells fairly strong. You will need ventilation to use it. Those fumes can cause problems!
Handbag care – refreshing
When trying to freshen a bag, use car air fresheners. Be CAREFUL with them.  The ones that say, KEEP AWAY FROM PAINTED SURFACES? I keep them in their wrapper, but slit the wrapper of a vanilla one and stick inside the bag. Inside the cloth lining. Vanilla doesn't clash with the leather smell and smells more natural. Not too perfumy.
Handbag care – miscellaneous tips

Another great tip – on vacation, or any fun day out with the family, carry a handbag that can take some water. The best handbag care can sometimes be preventing damage to begin with. Carefully store that great leather bag for safe keeping until you get home!
For large handbags, using a men's travel shaving bag unzipped inside, is a great way to keep your bag organized. Also makes it easy to change bags if you want to! Bags with lots of pockets do take more time to switch.
Handbag care – video
Taking care, cleaning and storing your handbags
resource: Storing and Caring For Your Handbag
Related Posts :