Louis Vuitton Pont-Neuf GM Handbag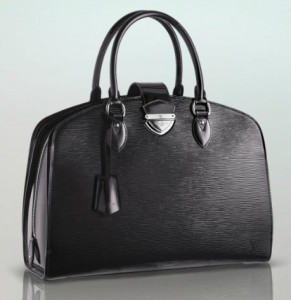 The Louis Vuitton Pont-Neuf GM Handbag can add a stylish twist to an outfit. The large Pont-Neuf comes in Epi leather. In 1985, Louis Vuitton introduced the Epi Leather line. Louis Vuitton's Epi line was created to address the need to have a quality, durable leather for use in travel conditions. Epi leather is dyed all the way through and has a grained texture. Epi leather is water repellent so this bag is safe and are perfect to use on rainy days. The Louis Vuitton Pont-Neuf GM Handbag has a glossy finish and is the perfect bag for women everywhere. You can get the Louis Vuitton Pont-Neuf GM Handbag at Louis Vuitton ($3300)
The Louis Vuitton Pont-Neuf GM Handbag features:
Refined microfiber lining
Shiny silvery brass metallic pieces
Zipper closure, flap and press-lock
Three compartments including a central zipped pocket
Hand-held with smooth leather handles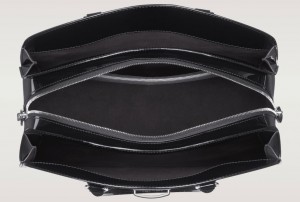 A little Information about Epi Leather:
The Epi Leather is inspired by the grained leather used by Louis Vuitton in the 1920s. The process of making  Epi is a very precise and controlled process. The leather is tanned with plant extracts, then deep-dyed. Its uniqueness look comes from the two tones obtained from a shine and a special coloring on the top of the grain. The result is the durable, richly colored Epi leather that you find on the Louis Vuitton Pont-Neuf GM Handbag.
Here are a few recommended Epi leather care instructions.
Avoid having your bag coming in contact with abrasive surfaces. Though resistant to slight scratches, the Epi leather is still vulnerable to sharp and jagged edges.
Protect your bag from direct sources of heat such as radiators, microwave oven, inside of cars in summer, etc.
To clean your bag, you can wipe it with a soft dampened cloth. Never use soap or solvent because it might damage the leather.
 From the Man's Eye:
The Louis Vuitton Pont-Neuf GM Handbag is a very nice handbag. Even to a man, this handbag is stylish, durable and not over-done. Classic style. It is a larger bag but not too big and it has plenty of room inside. You won't see too many of these in your travels. Unless your traveling among those that are wealthy or have an undeniable addiction to Louis Vuitton handbags there won't be many around, with a price tag of more than $3000. I probably would not pay that much for a bag, but I'm a man…. what do I know?
Related Posts :