Michael Kors Jet Set Neoprene Tote (Tangerine)
Michael Kors Jet Set Neoprene Tote in Tangerine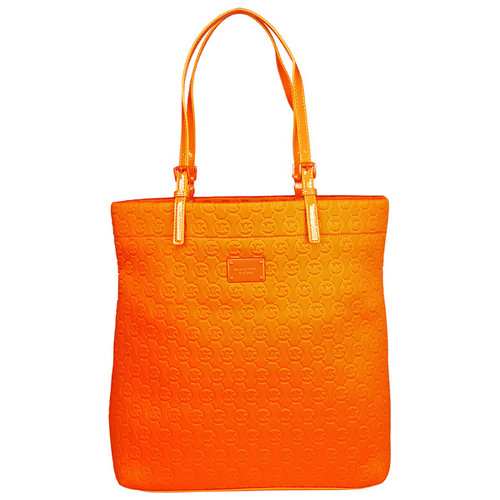 The Michael Kors Jet Set Neoprene Tote is a bag that seems to be maybe for bright sunny days. This large Michael Kors tote is a true eye-catcher. It's picturesque tangerine color and the embossed logos, combine to create a very fashionable tote. The Michael Kors, signature, front  logo plate adds a touch of style. The Michael Kors Jet Set Neoprene Tote is made with lightweight Neoprene and has dual flat patent leather shoulder straps. This stunning tote is large, so you can fill it with all your necessities and some extra things. It has a large main compartment, lined in suede-like fabric along with a back wall zip pocket and front wall slip  pockets. This is a great looking tote bag that is very functional. It has all the style that you expect from Michael Kors bags and is an affordable addition to your collection of  handbags. You can find the Michael Kors Jet Set Neoprene Tote at Amazon.com ($89.00)

Michael Kors Jet Set Neoprene Tote features:
fabric lining
9.5″ shoulder drop
15″ high
3.5″ wide
neoprene fabric.
Approx. 15 1/4″ x 16″ x 3 3/4″. Approx. 9 1/2″ strap drop.
open top
interior zip pocket and two slip pockets
fabric lining
Michael Kors Jet Set Neoprene Tote in Tangerine
Neoprene:
Resists degradation
Performs well in contact with oils
Remains useful over a wide temperature range
Outstanding physical toughness
Resists burning
Resistance to damage caused by flexing and twisting

From the Man's Eye:
The Michael Kors Jet Set Neoprene Tote is a bright bag. It's large and well designed. I really like the embossed logo design that covers the bag, but isn't gaudy. I invasion this tote being carried by a beautiful woman, on a warm summer day wearing a nice sun dress and some nice saddles. This bag just seems to fit that vision perfectly. Men like sundress and woman with open shoes …. they do!
Related Posts :