MyLUX Unique Handbag – Stunning Studs
MyLUX Unique Limited Handbag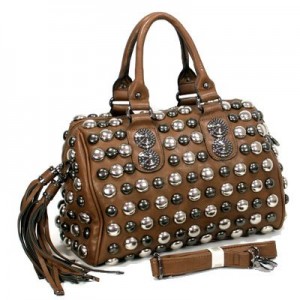 The MyLUX Unique handbag certainly lives up to it's name. This handbag has a quirky and very unique style. The MyLUX Unique handbag is a medium-sized satchel-style handbag that is decorated with studs. These decorative stud cover the entire handbag, giving this handbag a very hip look. The studs are two different tones and slightly different sizes. The darker tone studs are slightly smaller than the light tone studs. There are eight, particularly ornate studs that secure the two handles. The MyLUX Unique handbag has two, very ornate tassels that add a touch of flare. It comes with an adjustable strap that, when attached, allows you to wear the handbag as a shoulder bag. This is a great handbag with lots of unique qualities that make it a very unique handbag.
For every MyLUX Unique handbag sold, 8 % of profits go to Los Angeles Regional Food Bank. For every $ 1 donated they distribute enough food for 4 meals!  There are also several discounts that can be taken advantage of, that can be seen on the Amazon page.

MyLUX Unique handbag features:
Leather
Fashionable studs in two tones and sizes
Tassels
Adjustable strap
L 13 * H 9 * W 5
MyLUX Unique handbag review:
By Linda Giffin
Amazon Verified Purchase
Well built with lots of bling. Nice quality with plenty of room on the inside. I would recommend to a friend.

From the Man's Eye:
The MyLUX Unique handbag is a cool looking handbag. It has a 'bad-girl' kind of flavor, but is 'cute' enough to wear with your cutest outfit. The handbag won't cost you a mortgage payment and is very appealing. This is a truly unique handbag. With all the studs, this bag can also double as a weapon… I imagine that those studs would hurt is they where to hit you!
Related Posts :