Ogio Brooklyn Women's Purse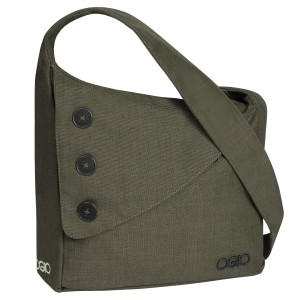 The Ogio Brooklyn Women's Purse has an innovative purse designed. It is designed with utility and style, making int a great everyday bag for busy women. It has padded compartments for storing and iPad, tablet or other mobile device. Ogio Brooklyn Women's Purse is made with nylon fabric so it is durable, breathable and low maintenance. It comes in several colors: Terra, Red, Yellow, Black and Tide. You can get this purse at Amazon.com ($39.50)
Ogio Brooklyn Women's Purse features:
Made with nylon
Fully padded zippered iPad/tablet/e-reader pocket (pocket dimension 8.5"h x 11.75"w)
Integrated cross body shoulder strap
Two large main compartments
Hidden zippered pocket under front flap
Large interior zip pocket
Dimensions: 11.75″ H x 11.25″ W x 4″ D

Ogio Brooklyn Women's Purse video:
From the Man's Eye:
Men generally like utility items and this bag definitely fits into that category. The Ogio Brooklyn women's purse is a great, everyday purse. It is not very expensive so you won't mind a little bit of wear and tear. The bag is made of sturdy nylon so it's easy to clean and durable enough to withstand daily use.  There are enough compartments to house your stuff, but don't over do it. This is not a duffel bag! It can carry plenty of your items but not all of your items. Reading a few of the reviews about this purse, it seems that the iPad / tablet compartment may be a little tight if you have a bulky tablet case. I think the Ogio Brooklyn bag would look good with just about any dress-down outfit. The utility-like design can work well with sneakers, jeans and t-shirt, kind of outfits. This is a purse that a man wont feel awkward holding for a woman because it's not too girlie. The Ogio Brooklyn is a good bag for the practical and stylish woman.

Related Posts :