Pan Am Layover Bag Sale – LivingSocial
The Pan Am Layover Bag sale is going on right now at LivingSocial. This throw-back style bag has been on sale for a while so this sale may not last too long. Go To Sale
He who would travel happily must travel light.
– St.Exupery

Though we travel the world over to find the beautiful, we must carry it with us or we find it not.
– Ralph Waldo Emerson
With retro styling finding its way into fashion collections across the world, there is still only one original. Pan Am set the tone for stylish airport accessories with the Pan Am Layover Bag, an ideal silhouette for those with a zeal for vintage but a mind for practicality. This versatile travel bag  can carry anything you might need on your jet-setting travels. Crafted in a simple, elegant style, the Pan Am Layover Bag serves as much more than just a pretty blue bag.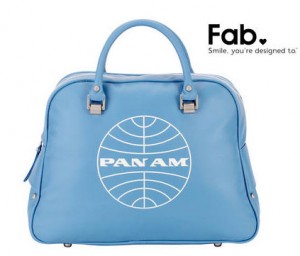 Pan Am Layover Bag features:
Brand: Pan Am
Color: Blue
Material: PVC
Measurements: D 6" W 16" H 12"
Weight: 2.20 lbs
Other Notes: Lining is printed cotton and nylon.
Pan Am Layover Bag Sale
Pan Am Layover Bag Sale
The Pan Am Mystique:
From its foundation as America's first international airline on October 27, 1927, to its peak in the 60s, and throughout the remainder of the 20th century, Pan American Airlines represented luxury, glamor and limitless possibilities.
Adored by celebrities, rock stars and the International elite, iconic Pan Am was made famous by its Clippers, first-class amenities, stewardesses, and of course, the Pan Am bag. Carrying a Pan Am bag signified the prestige of a privileged lifestyle, a certain freedom achieved when the ends of the earth are suddenly within reach.
During the 60's, the bags were presented to Pan Am first class passengers at check-in. In the 70's, they were also given out, but only to those who knew to ask. Among the rich and the famous, fans could spot the Beatles, JFK, Judy Garland, Joe DiMaggio, the Fondas and more toting their Pan Am bags along with them across the globe.
Related Posts :