Ralph Lauren Vachetta Scroll Clutch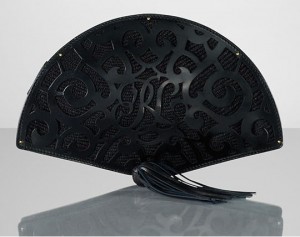 The Ralph Lauren Vachetta Scroll Clutch is a masterpiece of a purse.  The Ralph Lauren Vachetta clutch is special because of the Laser-cut leather, which is crafted in Italy and has a very detailed silhouette and a full interior lining. This clutch is a work of art. The attention to design and detail is immediately apparent when you look at this clutch. This beautiful clutch features an intricate ornamental scroll motif that is laser-cut out of sleek vachetta leather. The classic 'RL' adorns the center of the clutch and is artfully done in a fancy script. To add to the fine detail, the Ralph Lauren Vachetta Scroll clutch is shaped like and expandable fan, used by many women. This clutch looks like the ornate fans you associate with oriental or Asian cultures. The Ralph Lauren Vachetta Scroll Tote has a delicate look but is very well made. It currently comes in black only.
Ralph Lauren Vachetta Scroll Clutch features:
Zippered top closure. Laser-cut leather atop a straw outer lining.
Leather tassel at the bottom.
Contrasting silk lining with a patch pocket at the back wall.
Elegantly presented in our protective felt pouch with a card of authenticity.
6½" H x 11″ L x 1½" D.
Leather.
Made in Italy.
From the Man's Eye:
This Ralph Lauren Vachetta Scroll Clutch is a very artful handbag. The craftsmanship that went into this handbag is evident in the detailed cuts, precision stitching and the way the clutch resembles a delicate oriental fan. Every time I look at this clutch I imagine a Asian lady working her fan. This clutch should not be purposely worn in rainy conditions. The lining is exposed and may allow your items to get wet inside if it gets too wet. The  tassels add a nice flare to and already ornate handbag. The real interesting thing is that this handbag, as ornate as it is, does not look like it's over done. It retains that classic Ralph Lauren style and appeal. This one of the most artfully done clutch that I have seen in some time.
Related Posts :