Rupert Sanderson Leonora Leather Handbag
The Rupert Sanderson Leonora Leather Handbag is like fine architecture. Rupert Sanderson introduces a handbag design for the spring 13 collection which seamlessly evolves his reputation for expertly crafted footwear. Brimming with character and sophisticated in design, this structured shape handbag is given a vibrant personality with the use of cheery yellow leather.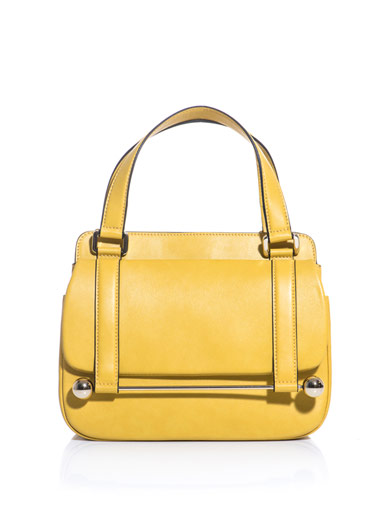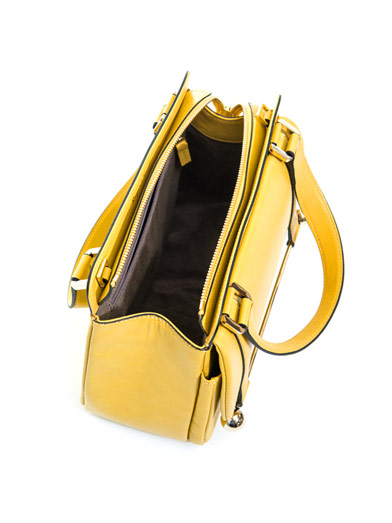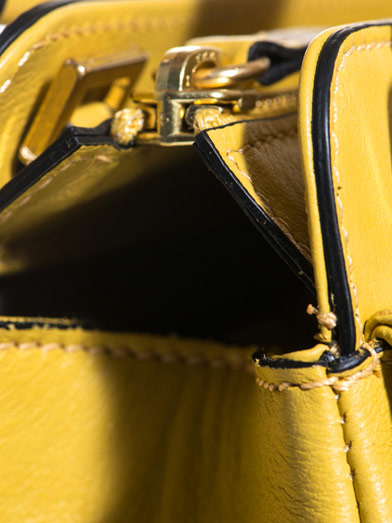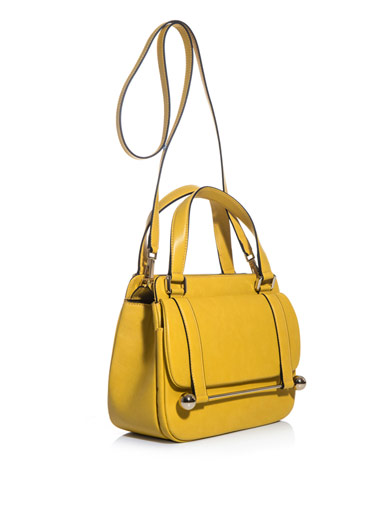 This Rupert Sanderson Leonora Leather Handbag in yellow, has a flapped magnet fastening front pocket with a gold metal sphere ended bar accent. The bag has two leather top handles and a zipped top closure. The Rupert Sanderson Leonora Leather Handbag has a taupe suede lining with two open internal pockets and one zipped internal pocket. This is a classy handbag that is still playful and fun. The design of the handbag is clean, with distinct lines. It can be worn with optional shoulder strap or with the handles. This bag looks like sophistication! It will go well with many different types of outfits but it is a bag that you want to dress up. Whether your dressed up in jeans or a business suit, this bag is not for your 'knock-around' outfits. it also comes is red.
Rupert Sanderson Leonora Leather Handbag features:
magnet fastening front pocket
gold metal sphere ended bar accent
zipped top closure
two open internal pockets
zipped internal pocket
taupe suede lining
About Rupert Sanderson:
Rupert Sanderson is a shoe designer. He was born in 1966 in Penang, Malaysia (coincidentally the same Malaysian island Jimmy Choo is from). The son of a British Army officer, Rupert Sanderson lived the typically peripatetic life of an army child. After graduating from Royal Holloway and Bedford New College, London University, he worked in advertising in London before enrolling on the shoe making course at the world-recognized Cordwainers College in East London, joining a long lineage of stellar shoemakers such as Jimmy Choo. During the summer holiday of the two-year course, he rode a motorbike to Italy to visit shoe factories, tanneries and last makers, meeting artisans and learning as much as possible about the trade.
Rupert Sanderson's design ethos is simply 'less is more', focusing on perfecting the line, balance and symmetry of the shoe to flatter and lengthen the leg; rather than adding more and over-embellish, Sanderson likes to pair down the design and concentrates on the fit, length and shape of the last, and reportedly rendering even his five-inch heels relatively comfortable to wear.
Get Rupert Sanderson Leonora Leather Handbag ($1,415) from Matches Fashion
Related Posts :