Small Venetia – a Marc Jacobs Original
The popular Small Venetia bag by Marc Jacobs returns this season. The fun bowler style bag features elegant top handles, exterior zip pocket and optional comfortable shoulder straps. The classic  Small Venetia bag returns this season in a fresh matte leather also. The matte leather Small Venetia has the same great style and features as the classic, but the leather is has a matte finish and is more textured. These cute little purses are made of 100% Goat Leather. It's the attention to detail that makes these handbag so special. The finest material, masterfully crafted produces a handbag that is simply wonderful!
Small Venetia bag features:
100% Goat Leather
Brass or chrome hardware
optional use shoulder strap
12.5″ x 9″ x 3.5″
Matte Leather: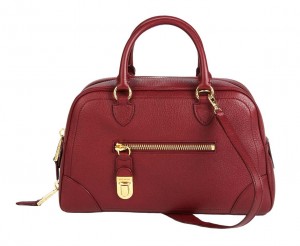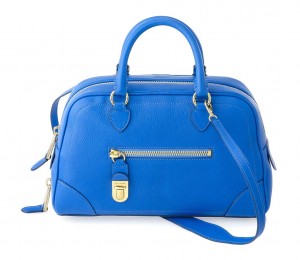 This Marc Jacobs Small Venetia bag is a perennial favorite for it's simple style, outstanding craftsmanship and versatility. Mar Jacobs has a reputation for outstanding design and manufacturing. Marc Jacobs introduced his namesake line in 1986 and quickly became the youngest designer ever to win the CFDA Perry Ellis Award for New Fashion Talent. Two decades and several CFDA awards (for womenswear, menswear, and accessories) later, Marc Jacobs is to America what Miuccia Prada is to Italy: the can't-miss catwalk, the bellwether label, the mercurial designer who stuns, delights and scares the fashion world twice a year. A master of the mash-up, his references are wide-ranging, always in flux, and often unlikely. Marc Jacobs is definitely one of the premier designers in fashion today. He's done multi-layered grunge and tight-as-a-drum ladylike.  The Small Ventia is more tight-as-a-drum ladylike than grunge but it has a classic look that makes it a number one pick for many fashion-forward woman.
Related Posts :