Versace Black Leather Handbag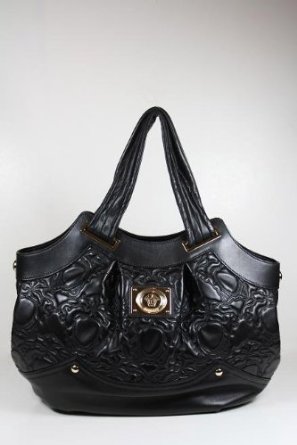 Versace Black Leather Handbag is all that you would expect in a Versace handbag. Meticulous attention to detail sets this handbag apart from lesser purses. This authentic Versace Black Leather Handbag comes directly from designer boutiques and it lives up to it's billing. The Fine leather with it's textured design is accented by gold hardware. This is a very stylish handbag that will catch the eye of all that see it




Versace Black Leather Handbag features:
Black Leather
Versace logo imprinted on front of the bag
Top zip closure
Double leather handles
Interior lining with pocket.
Gold hardware
Measurements: 16L x 11H x 4D (inch)
This bag comes with original cards and dust bag
Made in Italy

From the Man's Eye:
Men love designer things for women. Not necessarily to buy them, but they love how women act when they feel special and designer handbags seem to make women feel special. The design of this Versace handbag is awesome. Love the stamped leather and the accents, but it is not too gaudy like many Versace fashions.

Related Posts :