Vinyl Purses made from Records
If you want something truly unique then take a look at Vinyl Purses made from records. These purses are all individually hand crafted from recycled records. This is such a cool idea. The craftsmanship is top notch and you can get a purse that is a real conversation starter. You can inquire about a specific records or you can send your own records to be turned into vinyl purses.  Think of all the possibilities you have. Considering all the great vinyl albums and artwork you can create vinyl purses that no one else will have. All the vinyl purses are uniquely constructed. The records are cut to make the body of the bag and the the cut-piece is used as the top closure for the vinyl purse. All the purses are lined with wood which makes the purse extremely sturdy. Quality hardware is used and  all the side panels of the purses are individually sewn.  Everything is hand drilled and hand sew.  In addition, these purses are surprisingly light in weight. You can get vinyl purses from Covertocoverpurses.com(~$50)
 Vinyl Purses features:
12 X 7 X W(5″ on bottom) (3″ on top)
Height with Handle  11″
Handle is made from Zinc Plated Jack Chain inserted into Black Vinyl Tubing
Light wood insides
Hand sewn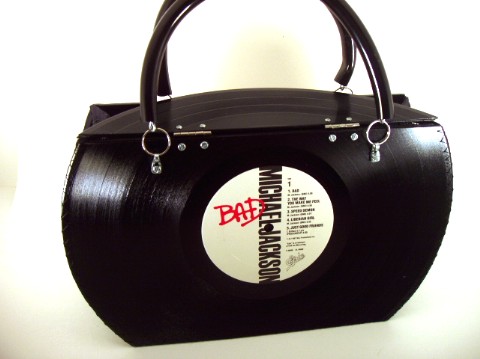 Vinyl purses care:
Vinyl purses are not everyday purses.  Vinyl purses have been coated with a spray lacquer to help with scratches. You should treat your purse as if it was an actual record! It should not be left in a hot car or by a heat source to avoid warping or melting.  Freezing is not recommended.  Scratches can be repaired.  Large scratches will have to be covered with spray lacquer. Take care to not allow the label to get wet !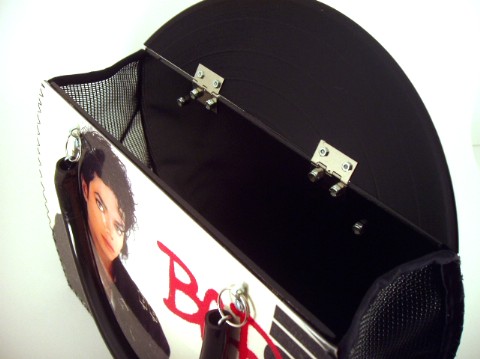 About the Creator and Products
Dolores lives in a small town in mid Michigan.  She has been married for 24 years to her husband, Keith, and they have four children. Three of which are in college, one that is in high school. They started making these purses back in 2003 after seeing an idea on the internet.  They had there my own ideas about how the product should look and worked hard to get it to be there unique style. The record purses are made from real vinyl records,  individually cut and hand sew together. They are all lined with wood so that they are very sturdy.  There is great pride in making the product. They they make wonderful and unique gifts.
From the Man's Eye:
This is super cool! … These Vinyl Purses made from records are unique and something that is worth getting. Sometimes the biggest named designer can't produce something better than good ole imagination and some recycled materials!
Related Posts :