Candice Flower Soft Hobo Purse
The Candice Flower Soft Hobo Purse has a striking look. The contrast in colors is very appealing and the flower adds a nice accent. This purse is fun. It's design and look allows it to be worn with a wide variety outfits and not be too over or understated. The Candice Flower Soft Hobo Purse is a medium sized purse and the decorative flower is removable. You can get the Candice Flower Soft Hobo Purse at Amazon.com ($29.50)
Candice Flower Soft Hobo Purse features:
Contrasting gold and copper colors
Braided double handles
Removable decorative flower
Two open top pockets and one zippered pocket provide plenty of space for your smaller items
Approx Dimensions: Exterior 11″ L x 9″ H x 4″ W
Approx Dimensions: Interior – 10″ L x 8″ H x 3″ W
6″ shoulder strap drop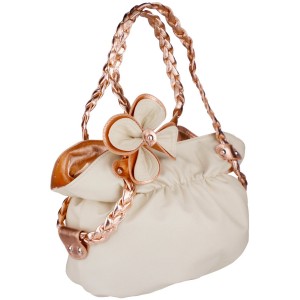 Candice Flower Soft Hobo Purse Owner's Review:
I really loved this bag online and the reviews were helpful so I decided to add another. I received the beige one as a gift and its the perfect size!!not huge and not tiny perfect under arm bag.The only thing is the inside lining is a bit cheesy and cheap but in no way will make me rate it any less cause no one sees that but me. lol you shouldn't second guess this one perfect for summer time . My kindle, glasses case,my psp, sunglasses,long wallet, and small makeup bag, along with my blackberry and huge key ring all fit nicely in this bag. No center divider though.But its great buy it.If they had black i would order it.
From the Man's Eye:
This is a nice purse. Really girlie and pretty. From some of the reviews the Candice Flower Soft Hobo Purse is not the most sturdily built purse there is but it is not going to just fall apart either. The purse is not an everyday bag as far as it's style goes, so it should last a good long time. If you choose to ignore style and use it as an everyday bag it's life may be cut in half. The material and the hardware are not meant for a lot of stress. Overall the Candice Flower Soft Hobo Purse is appealing and the price is right.
Related Posts :