Eco Friendly Breast Cancer Pink Ribbon Tote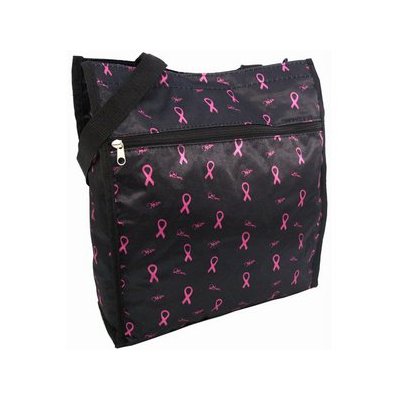 The Eco Friendly Breast Cancer Pink Ribbon Tote is the perfect multi-purpose tote bag. It's made out of a strong microfiber material and this multi-purpose tote can handle whatever you throw in it. This lightweight versatile tote is an ideal and fashionable choice for a reusable grocery bag, school bag, or beach bag to throw over your shoulder and go. The The Eco Friendly Breast Cancer Pink Ribbon Tote has an exterior velcro , zipper, and mesh pockets. This makes for easy and accessible organization. The durable nylon lining makes for easy cleanup of accidental spills. Features a zip top as well as a Velcro closure for extra security. In an eye catching breast cancer awareness pink ribbon print, this perfect shopping bag is sure to show your support of breast cancer awareness and comes it comes with a matching coin purse. Keep breast cancer prevention and cure on everyone's mind and reduce your impact on the environment with the Eco Friendly Breast Cancer Pink Ribbon Tote.

Eco Friendly Breast Cancer Pink Ribbon Tote features:
12″ wide x 12/5″ tall x 5″
Zipper and Velcro main enclosure
Coin purse included
Material: Microfiber
The 'Pink Ribbon' Story:
Evelyn Lauder and Self magazine's Alexandra Penney who launched the pink ribbon campaign in 1992, offering the ribbons as subtle reminders to women who stopped at cosmetics counters in department stores that they needed to schedule breast exams.
The pink ribbon was so little known that some people thought it symbolized AIDS awareness. "There had been no publicity about breast cancer, but a confluence of events — the pink ribbon, the color, the press, partnering with Elizabeth Hurley, having Estee Lauder as an advertiser in so magazines and persuading so many of my friends who are health and beauty editors to do stories about breast health — got people talking," said Evelyn Lauder, senior corporate vice president of The Estee Lauder Companies and founder of the Breast Cancer Awareness Campaign.
Lauder, the daughter-in-law of the late Estee Lauder, who founded the brand, recalled a bellwether moment in the evolution of the cause. At first, she had to explain her own pink pin everywhere she went. Then, three years after distributing the first one, a flight attendant noted it on Lauder's lapel and said, "I know that's for breast cancer."
"From there, it became ubiquitous," she said.

Related Posts :