Handbag Charm Security Alarm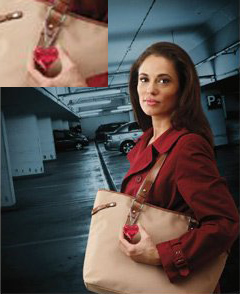 The Handbag Charm Security Alarm  is a fashionable handbag accessory that turns into a personal security alarm. The world can be a dangerous place. If your a woman, unfortunately, you may be the target of someone looking to steal your handbag or purse or even have more horrifying intentions. This compact handbag accessory can give you a little extra peace of mind when traveling alone or with your children. If you or a loved one sense danger or find yourselves in an emergency situation, just tug on the heart to turn the handbag charm into a security alarm. It instantly unleashes a sharp, powerful, 100+ decibel siren that draws attention to your plight. This can help put attackers on the run. With a dazzling plated finish and glossy link chain, the Handbag Charm Security Alarm attaches to your purse, tote, or backpack strap. It is not easily recognized as a siren device and it's cute look means that it won't detract from the look of your handbag or outfit.

Handbag Charm Security Alarm features:
Charm attaches easily to handbag, tote or backpack strap with sturdy linked chain
Charm delivers a powerful 100+ decibel siren with a gentle tug
Dazzling plated finish with glossy link chain
On/Off switch
Includes 3 button cell batteries
From the Man's Eye:
The Handbag Charm Security Alarm is a very good idea and ingenious accessory. Women are often the target for criminals because they see them as weaker or more vulnerable. This device can't be relied on to be a major defense but it will startle a would-be attacker and often make them rethink for at least second, allowing you to get away or get help. The Handbag Charm Security Alarm is something that every woman in your household should have because it could prevent a tragedy. Sometimes the best defense is to avoid and incident and this device maybe enough to help you do that.

Related Posts :