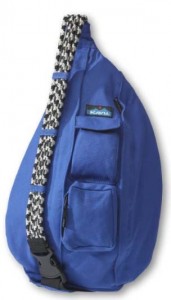 The KAVU Rope Backpack Bag is a stylish and practical backpack purse. Ergonomically designed for extreme comfort, this backpack purse is great for any active woman. The KAVU Rope Backpack Bag has lots of storage space, which includes two zipper pockets for easy access to keys, mobile device or other personal items. This backpack purse has an adjustable rope shoulder strap, two vertical zip compartments, padded back with KAVU embroidery and ergonomic design to fit the body like a bag should. The KAVU Rope Backpack Bag comes in several color so there is sure to be a color that you love and works well with your wardrobe. Colors include black, sky blue, caramel, arcade stripe, kiwi float, dandy dot, tomato, blue scout, everglade, and island bloom. These backpack bags are reasonably priced so you can get multiple bags and get all the colors you like. This is listed as one of the best selling bags right now. Get yours and enjoy a really practical, yet stylish backpack bag.


KAVU Rope Backpack Bag features:
synthetic
Best seller with two vertical zip pockets for lots of storage
Two zip key/phone pockets for easy access to essentials
Padded back with ergonomic design for comfort
From the Man's Eye:
Ergonomic, fun, and functional. The perfect stash for your goods on-the-go. The KAVU Rope Backpack Bag is a really good bag for everyday. Whether you are power-walking through your daily commute, picnicking in the park, hiking mountain trails or just hanging out for a day of shopping. This bag is good looking, well made and practical. It's also made in the USA.

Related Posts :