Le Donne Leather Everyday Backpack Purse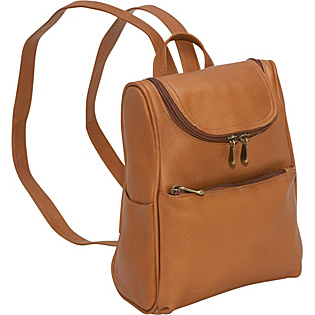 The Le Donne Leather Everyday Backpack Purse is exactly what it's name says it is. It is a perfect everyday purse. This backpack purse has plenty of pockets to store all of your items and is made to withstand everyday wear. The Le Donne Leather Everyday Backpack Purse is utilitarian and stylish. The ability to wear this purse as a backpack makes it great for use if you commute via public transportation, if you have a lengthy walk from your car to your office or any other reason you may be able to benefit from being able to wear your purse as a backpack. The Le Donne Leather, Everyday Backpack Purse has a classic look and can be worn with jeans or casual clothes. The purse is made of  genuine Columbian full grain leather which gives it a great look and adds to it's durability. The straps are adjustable; allowing it to fit comfortably and securely. The Le Donne Leather Everyday Backpack Purse is an everyday purse that offers above average style and utility. It comes in four colors; black, tan, red, and cafe. You can get the Le Donne Leather Everyday Backpack Purse from Handbags.com ($93.00)
Le Donne Leather, Everyday Backpack Purse features:
Front Zip Pocket with two Pen Holders and Cell Phone Pocket
Interior Zip Pocket
Two Side Slip Pockets for Glasses, Phone, Etc.
Adjustable Straps
Antique Hardware
10″ x 8.5″ x 5″
Genuine Colombian Full Grain Leather
From the Man's Eye:
The Le Donne Leather Everyday Backpack Purse is a useful back. It is a great back for a commuting, outdoor events like festivals, or any other activity. For the women that need a purse for every activity, this is a good purse to have. I works well with multiple types of outfits and it can be carried hands-free. This is not a fancy purse, but it does have enough style to get get by.