Marquise Metallic Python Spiked Clutch – Christian Louboutin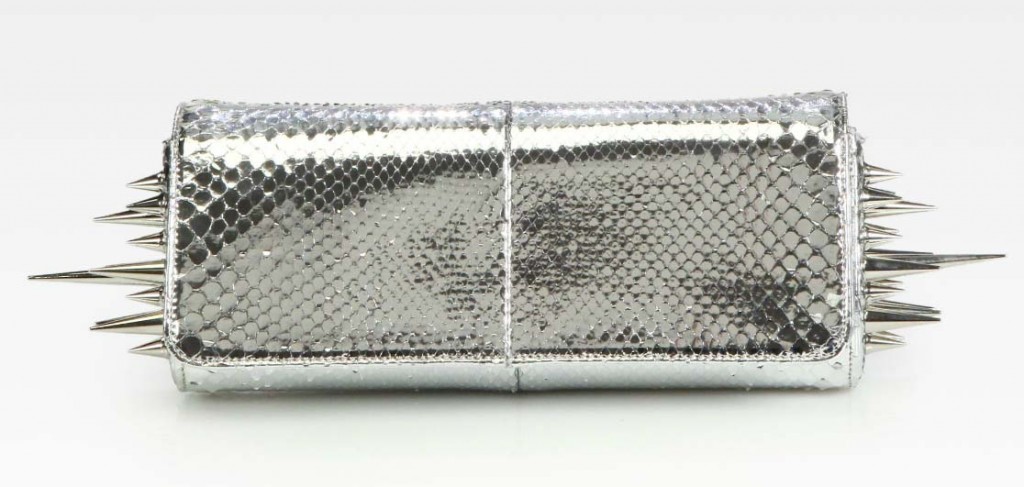 The Marquise Metallic Python Spiked Clutch by Christian Louboutin is a definite eye-catcher and will add an aura of excitement, danger and intrigue to any outfit it is paired with. Exotic and theatrical, this metallic python design features spikes of various sizes on both sides. This clutch is not for the faint of heart or the frugal shopper. The Marquise Metallic Python Spiked Clutch is high fashion. Christian Louboutin is known for risque and daring designs and this clutch represents that very well. This bag is definitely not an everyday bag unless you live on a red carpet.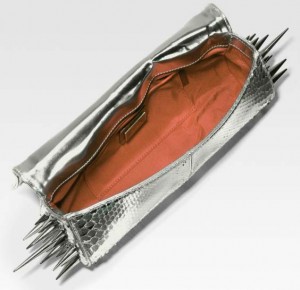 Marquise Metallic Python Spiked Clutch features:
Magnetic flap closure
One inside open pocket
Signature red lining
10″W X 4½"H X 2½"D
Made in Italy
The Marquise Metallic Python Spiked Clutch has a 'sister-bag' too. It's the same design but it comes in black. Though this is a bit toned down, in relation to the metallic clutch, it is still and exotic clutch. The spikes contrast with the black to give this version of the Marquise Metallic Python Spiked Clutch design a 'punk' inspired look.

From the Man's Eye:
This Christian Louboutin clutch is dangerous looking. The Marquise Metallic Python Spiked Clutch looks like a purse that one of the woman villains in James Bond would carry. The spikes are awesome. Your style needs to be equally daring to pull this bag off. It's nice though …the spike are 'off the hook
About Christian Louboutin:
In his first year of business, Louboutin sold 200 pairs of shoes.  He now sells 700,000 a year.
He began sketching shoes in his early teens, ignoring his academic studies. Going through a punk phase, he was in a few films, including 1979 cult classic Race d'ep. Under the title The Homosexual Century, a film which attracted an English-language audience. His first job was at the Folies Bergères, the caberet where he assisted the entertainers backstage. He was also a fixture on the city's party scene, clubbing his nights away alongside Mick Jagger and Andy Warhol.
His little formal training included drawing and the decorative arts at the Académie d'Art Roederer. Louboutin claims his fascination with shoes began in 1976 when he visited the Musée national des Arts d'Afrique et d'Océanie on the avenue Daumesnil. It was there that he saw a sign from Africa forbidding women wearing sharp stilettos from entering a building for fear of damage to the extensive wood flooring. This image stayed in his mind, and he later used this idea in his designs. "I wanted to defy that," Louboutin said. "I wanted to create something that broke rules and made women feel confident and empowered."[13]
Fascinated by world cultures, he ran away in his teens to Egypt and spent a year in India. Louboutin returned to Paris in 1981, where he assembled a portfolio of drawings of elaborate high heels. He brought it to the top couture houses. The effort resulted in employment with Charles Jourdan. Subsequently, Louboutin met Roger Vivier, who claims to have invented the stiletto, or spiked-heel shoe. Louboutin became an apprentice in Vivier's atelier.
Going on to serve as a freelance designer, Louboutin designed women's shoes for Chanel, Yves Saint Laurent, and Maud Frizon. In the late 1980s, he turned away from fashion to become a landscape gardener and to contribute to Vogue but missed working with shoes and set up his company in 1991.
With funds from two backers, he opened a Paris shoe salon in 1991 with Princess Caroline of Monaco as his first customer. She complimented the store one day when a fashion journalist was present, and the journalist's subsequent publication of Princess's comments helped greatly to increase Louboutin's renown. Clients such as Diane von Fürstenberg and Catherine Deneuve followed. Later, those interested in his stiletto heels have included Lady Gaga, Joan Collins, Jennifer Lopez, Madonna, Gwyneth Paltrow and Kim Kardashian. Sarah Jessica Parker wore a pair of shoes by Louboutin for her wedding. Britney Spears wears a pair of high-heeled Louboutins in her music video If U Seek Amy that were not available for sale until a month after the video was released.