The In So Mini Words Quilted Mint Purse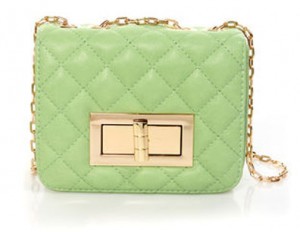 Mint green vegan leather handbag has a small and distinct shape, with a hip, diagonally quilted pattern. It has a 48″ gold shoulder chain that can be doubled for a shorter drop. Untwist the unique golden twist lock to discover a shockingly spacious, fabric-lined interior with a secure zipper pocket. This vegan leather purse can be worn with a variety of outfits and you can feel good because it does not contain and animal materials. You can the the In So Mini Words Quilted Mint vegan leather purse at LuLu's ($32)
The In So Mini Words Quilted Mint Purse features:
  6.5″ x 5″ x 2.5″ deep.
Vegan leather man made materials.
48″ gold shoulder chain.
Imported.
The most common forms of vegan leather are crafted using synthetic materials originating from petroleum. A variety of plastics and synthetic microfibers are used in the production of vegan leather.  Some vegan leather clothing items like a coat, or a vegan leather purse are made of other materials as well. Some vegan leather is made from tree bark. The Mutuba tree in Uganda offers the same qualities as cowhide.
A vegan leather purse  may be made of :
Vegetan: This is a microfiber material that is designed for and used as an animal-friendly leather substitute.
Lorica: This material is made out of several different microfibers.
Birko-Flor: This is made out of acrylic and polyamide felt fibers.
Birkibuc: This is made out of the same stuff as Birko-Flor, but looks and feels like nubuck leather.
PVC: This is Polyvinyl chloride. Good for animals. Not so good for environment.
Kydex: This is an acrylic-PVC alloy.
Ocean Leather: Made from kelp
Cork leather: made from the bark of Cork Oak trees
Related Posts :