Cute Womens Purses – Benedetta Bruzziches
Cute womens purses can be be found in all price ranges. Price does not dictate 'cuteness'. You can find cheap women's purses that are very cute. For most women, there are more cheap purses in their collection than expensive purses in their collection. There  is a place for cheap purses, but there is also a place for the more expensive purses. You can definitely find cute womens purses that are on the expensive side. More expensive purses are usually made of better materials, are manufactured better and have more detailed designs or a higher level of craftsmanship. Stylish handbag and purses are available in all price ranges but when you venture into the more expensive realm, you truly find some one-of-a-kind gems.
Benedetta Bruzziches is a designer that makes cute womens purses that are in the 'high-end' category. Benedetta Bruzziches is a bags designer, born just, 27 years ago in Caprarola. She graduated with merit from the European Institute of Design in Rome and in 2007 she wins the Riccione Moda Italia contest in the accessories category. After having become Romeo Gigli personal assistant for the IO IPSE IDEM collections she is awarded by the Camera della Moda and Alta Roma a scholarship to attend a MA in the International City of Arts in Paris as "Best Italian Talent".
Benedetta Bruzziches makes unique handbags. They are unique yet not wierd, overdone or too trendy. The could be described as stylish handbags with quirky twist of design. Below we show case some of the cute womens purses that the designer had created.
Cute Womens Purses – Benedetta Bruzziches
Pochette Kiss
A cute womens purse and a glam clutch from Benedetta Bruzziches featuring black and silver patent leather, fringes and applied kiss plaque.
Patent Leather, PVC Fringe, Plexiglass Embellishment, Gunmetal
Lined in Suede
Top zip Closure
Made in Italy
 Rose Gold Life Is A Cabaret
This metal clutch by Benedetta Bruzziches features a ribbon tie detail, a top clasp fastening, contrast lining, an internal silver-tone chain, a small slip pocket and an interior brand plaque.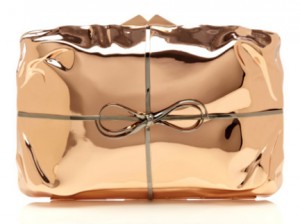 100% Metal
Three zippered compartments inside
Lined
Snap closure
Made in Italy
Mirror Carmen With Hand
Metal clutch from Benedetta Bruzziches features drastic Dali-esque pincushion detailing and an interior brand plaque.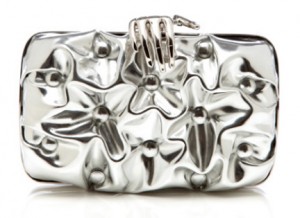 100% Metal
Lined
Snap clasp 'hand' closure
Made in Italy
  From the Man's Eye:
These are some cute womens purses. Benedetta Bruzziches is a young designer and it shows in her designs. The purses are stylish, unique and fresh. I love her use of materials. She uses metal masterfully and it sets her handbags apart.
You can find these stylish handbags and purses at Moda Operandi