Ruffled Double Handle Hobo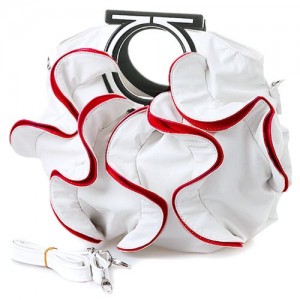 This bold Ruffled Double Handle Hobo handbag is a great way to get an expensive looking handbag, without paying out of this world prices. Your fashion sense does not always have to be guided by your bank account! The tremendous soft leatherette ruffles run on the front panel with vibrant red interior touch.  The ruffles remind you of flower pedals and have a striking visual effect. Unique plastic circular dual handles make an outstanding fashion statement and make the handbag very easy to carry. The top of the manmade leather tote includes a zippered closure that opens to reveal fabric lining. There are two open top pockets and one zippered pocket that provide plenty of space for your smaller items or cell phone. An additional zippered pocket is located along the back side of this unique handbag for easy access items. The Ruffled Double Handle Hobo has a detachable, adjustable strap allows you to carry the bag on the shoulder or across the body when needed. The Ruffled Double Handle Hobo is a very nice satchel handbag that goes well with summer dresses. It has a light and summery appeal to it and it's design is very lady-like and delicate looking.
Ruffled Double Handle Hobo features:
Circular dual handles
Multiple interior pockets
Made of man-made leather.
Adjustable / detachable strap
Approximate: 16″ L x 14.5″ H x 2.5″ W
From the Man's Eye:
The Ruffled Double Handle Hobo is a frilly, womanly handbag. This hobo satchel is very attractive and perfect for wearing on bright, sunny days. This handbag is unique. The circular handles are a nice design touch that flows well with the circular motif of this hobo satchel. Because the handbag is so frilly and girly, many men may not be able to see its full potential without seeing it already paired with an appropriate outfit. For this reason, you  probably won't get this one for a gift even with the price being so perfect!
Related Posts :