Hollister Hobo Concealed Carry Handbag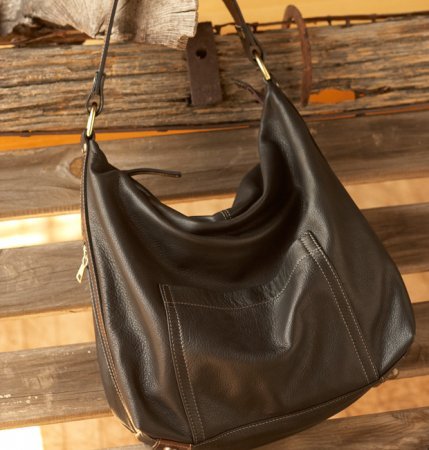 The Hollister Hobo Concealed Carry Handbag is one of Coronado Leather's newest handbags. 100% cut and sewn in their San Diego, CA leather shop. Made from the finest full-grain, buttery soft cowhide leather. Features rich, deep-brown Latigo leather trim and accents, all polished and dyed by hand. It is adorned with with brass hardware and contrast stitching. Along with all of it's great styling, the Hollister Hobo Concealed Carry Handbag features a side key-locking concealed-carry pocket that is large enough to carry a full-size semi-automatic handgun. The concealed carry pouch is only slightly smaller than the purse length/width and offers plenty room for most weapons. The concealed carry pouch is constructed of ballistic nylon with Velcro loop on both sides, and has a YKK locking zipper with 2 keys. A universal holster is included, and has Velcro hook on both sides, for a secure fit in the concealed carry pouch. This is an extra large, oversized handbag.
There is one main purse compartment accessed by a nylon top zipper with leather pull and twill lining. Interior has 1 generous back zip pocket, a key tether, key ring, and 4 pockets of varying sizes for phone, eyeglasses, pens, and the like. Generous front face patch-pocket with magnetic closure for phones, ipods, etc. 4 brass feet with Latigo trim help protect your investment from damage. If you don't carrying,  the Hollister Hobo Concealed Carry Handbag has a locking zip pouch that is also a great place to stash electronics or important documents for safe-keeping. Available in Black, Brown, and Saddle Tan leathers. The Latigo trim is Dark Brown for all bags regardless of color selected.

Hollister Hobo Concealed Carry Handbag features:
Oversized, extra-large concealed carry purse, measures 17″ x 14″ x 5.5″
Locking concealed carry pouch with included universal holster
1.5″ wide x 19″ long latigo leather and suede-lined strap
Constructed of full grain leather
Brass hardware
Twill lining
Handcrafted in the USA

Hollister Hobo Concealed Carry Handbag review:
Amazon Verified Purchase
This is an incredible purse. The leather is fabulous, and the craftsmanship is beyond beautiful. For those who wish to carry a very classy handbag with perhaps an alternative purpose.
Related Posts :